With our high-tech tools, you can make every minute count
Go online to do it all
Life is full of non-stop commitments, can't-miss appointments and one deadline after another. It's enough to give anyone the Can't-Get-It-All-Done-Today blues. At Excite Credit Union, we can help you find some breathing space. With Online Banking, you can quickly pay your bills, move money around and get a good grip on your overall finances any time your busy schedule gives you just a few minutes to come up for air.
See your account information in one place
Follow your recent transactions
Transfer money between Excite Credit Union accounts
Move money from other financial institutions
Quickly pay a bill or loan
View images of your checks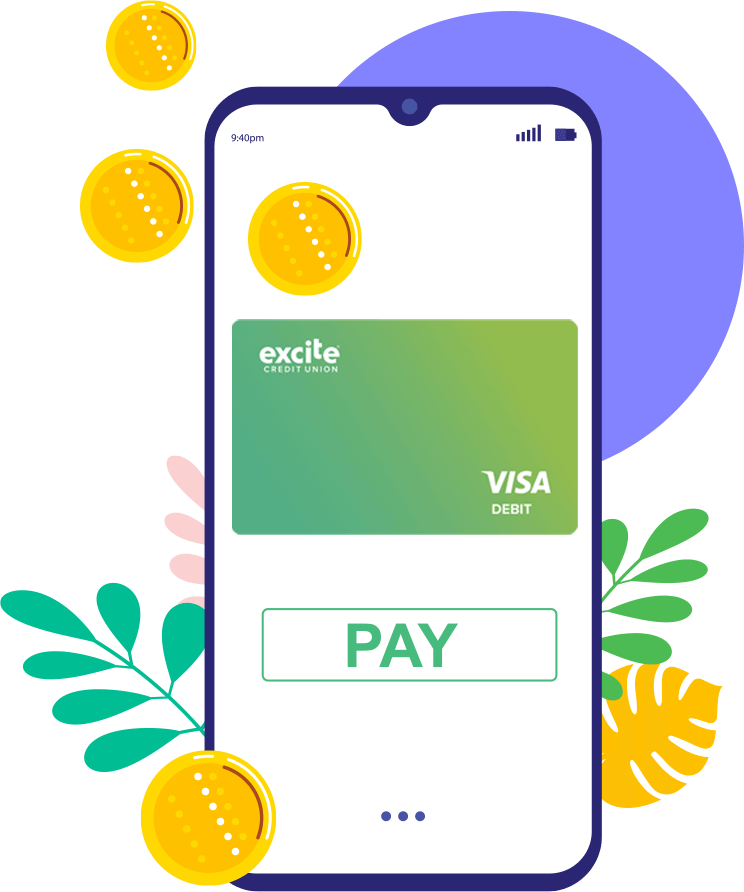 Digital
Wallet
Safe, convenient checkouts with your phone and your Excite Card.
Mobile payment technologies like Apple Pay, Samsung Pay or Google Pay make both online and in-store checkouts faster and easier way to pay.
Securely store your Excite Credit Union debit or credit Visa® in your phone's digital wallet for quick checkouts when shopping in store or online. It makes purchases easy, convenient, and secure! Paying with a digital wallet is safer than giving the store your card number and PIN.
Money
Manager
No need to hire some stranger to help your sort through your personal business. Our free online money management software can help you figure out the best way to move forward.
Your Excite Credit Union accounts and accounts from other banks or credit unions can be viewed together—all in one place.
Each transaction is automatically categorized and tracked from your Excite Credit Union accounts, showing you where, when and how you spend your money.
Make budgets
See all of your debts
Get a clear picture of your financial situation
SAVVY
Money
Take control of your credit score. When you sign up for online banking, you can see your credit score free of charge. You get convienient access to score updates, credit alerts, monitoring, and offers that fit your needs.
Credit confidence
Daily score updates
Money saving offerins
Online Banking FAQs
Members have the ability to register for Online Banking and Mobile Access by clicking on the Register button in the Online Banking Login section of the Excite Credit Union Home Page or the Register button in the lower left hard corner of the Excite Credit Union Mobile App. You will be prompted to create a User Name and Password and enter some personal information to complete your registration. Please ensure that you have your Excite Credit Union Member Number available at the time of registration.
Click on 'Forgot Password.'
The system will require you to enter your registered phone number (The phone number your entered when you signed up for Online Banking.)
You will then receive a temporary password.
Use your temporary password to log in to your Online Banking account and then update your password.
Memo simply means the transaction is pending.
Whenever you use your debit card as a credit card the amount of the transaction is automatically placed on a pre-authorized hold. Once the merchant submits their paperwork through their processing vendor the hold amount drops off of your account and the actual transaction posts to your account. The hold will remain on the account for no longer than 3 days; however, can drop off sooner based on how quickly the merchant submits their work to their processing company. The amount of the pre-authorized hold is set by the merchant. Most merchants are dollar for dollar as they know the exact amount of the transaction at the time you are doing the transaction.
When you use your card at the pump at a gas station their system is simply making sure the card is valid as they have no way of knowing how much gas you will be pumping at the time of authorization. Most stations will hold only $1 to verify the card; however, some will hold $50 or $100 depending on their policy. The Credit Union has no authority over the merchants on the amount of the hold. You can bypass this hold if you take your card to their manned window and have them post an exact amount of gas that you wish to pump.
Login to Online Banking and click on the Additional Services tab and select eDocuments. Follow the instructions that appear. If you need access to eStatements only, you can sign up here.
Click on the "Payments" tab within Online Banking and then select Bill Pay. Once you click on PAYMENTS, VIEW AND PAY BILLS the system will bring you to the PAYMENT CENTER. From this screen all you would need to do is enter the amount for each payee you would like to pay. The date will automatically pre-fill with the first possible pay date. This date will be the date the payee should receive the payment. This is also the date your checking account will be debited. You can select any date past the first possible date or leave this date in place.
Once you have entered all of the amounts you want to pay click on MAKE PAYMENTS at the bottom of the payees. A list will appear displaying these payments. If everything is correct click SUBMIT. When the PAYMENT CONFIRMATION screen appears click FINISHED. You will then be able to view your pending payments on the right hand side of the screen.
Payments scheduled using your Bill Payer Service can be sent out in 3 ways. They can either be transmitted electronically, based on the payee acceptance method, by corporate check or by draft.
A draft is a check sent from the Bill Payer provider; however, encoded as a check from your account. Drafts will clear from you account as any check you have personally written clears. Drafts check number start with 995.
Electronic payments or corporate checks will clear on the date you have set up for the payee to receive payment. If you set up a payment and select the date that automatically appears in the date field, the payment will be sent out to be received and debited from your account on that pay date. You can always select a date later then the automatic date appearing in the date field; however, you would never be able to select a date prior to that date.
If you have additional questions or concerns regarding this process please click on HELP located just above the MY ACCOUNTS button or call our office at 800.232.8669 between 5am and 6pm PST, press 0 and a service center associate would be happy to assist you.
Excite Credit Union is a full-service credit union with locations in San Jose, CA, Sunnyvale, CA, and Wilmington, NC.