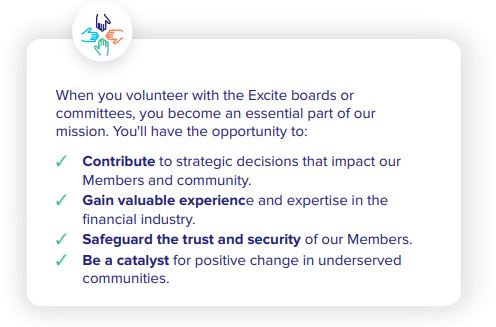 Join the Mission: Volunteer at Excite Credit Union
At Excite Credit Union, we're more than just a financial institution – we're a community-driven force for positive change. The mission is clear: to make a profound difference in the lives of our Members and the underserved communities we proudly serve. We believe in the power of unity, innovation, and a shared commitment to a brighter future. We are seeking committed Members to join the mission and leverage their related professional expertise as Volunteers furthering Excite's impact.
Volunteer Opportunities
There are four volunteer opportunities for Member participation in the democratic control and strategy of the credit union. These positions are volunteer, unpaid, positions.
Are you ready to be a part of this inspiring journey?
We invite you to volunteer for one of four essential positions that will shape
the future of our credit union and uplift our community:
GENERAL ELIGIBILITY AND REQUIREMENTS FOR ALL POSITIONS
Active Member of Excite Credit Union
Minimum Age 18
Demonstrated Fiscal Responsibility and Good Credit Standing
Must be Bondable
Experience commensurate with the position including, but not limited to:

Previous Board, Supervisory, or senior level leadership experience
Finance/Accounting
Corporate Investments
Legal
Marketing and Communications
Strategic Planning
Banking Technology
Human Resources
Risk Management
Community Engagement
Advocacy
Volunteerism

Personal character and integrity;
A demonstrated ability to communicate effectively and to think creatively;
A willingness to serve the members and support the Credit Union's values and culture;
The ability to comprehend and learn business concepts and procedures;
The ability to read and interpret financial statements,
The capacity to provide strategic direction and sound organizational leadership;
The desire to be a team player and have a proven record of successful teamwork.
Position Descriptions
Term: Three (3) Years
Details:

Govern the general direction and control of the credit union. This includes guiding the organization to fulfill its purpose; setting policy, which guides the affairs of the credit union; and ensuring, that polices are carried out in accordance with applicable provisions of the credit union charter, bylaws, all applicable federal and state laws, sound business practices, and the needs of the membership.

Meetings:

Twelve (12) Meetings per year, Once Per month
Additional Meetings:

Annual Strategic Planning Meeting (3-4 Days, Travel may be required)
Special Committee Meetings as required
Annual Meeting
Public Service Events
Term: Two (2) Years
Details:

Board-prep position with hand on learning opportunities. Share the same roles and responsibilities as a member of the Board of Directors but without voting rights. This role offers hands-on Director training, with the expectation that the individual will be well prepared to run for a Board seat.

Meetings:

Twelve (12) Meetings per year, Once Per month
Additional Meetings:

Annual Strategic Planning Meeting (3-4 Days, Travel may be required)
Special Committee Meetings as required
Annual Meeting
Public Service Events
Term: Three (3) Years
Details:

Direct internal audit activities designed to determine whether credit union financials are prepared accurately and verify whether internal controls and policies are maintained and followed. The Committee operates independently of the Board of Directors and credit union administration to represent the membership by performing their duties as prescribed by federal and state law.

Meetings:

Twelve (12) Meetings per year, Once Per month to review internal audits, reports, regulatory examination repots, and the annual financial audit report
Additional Meetings:

Invited to attend Board Meetings
May be invited to attend Annual Strategic Planning Meeting (3-4 Days, Travel may be required)
Special Committee Meetings as required
Annual Meeting
Public Service Events
Term: Two (2) Years
Details:

The Community Development Advisory Board will provide recommendations to the Excite Board of Directors concerning Loan Products and Financial Services, Organizational Policy development, Strategic Planning, Marketing Strategies, and Development Services as it relates to our community impact.

Additional Requirements:

At minimum four (4) Members of the Community Development Advisory Board will be accountable to Target Markets as outlined in the annual Community Development Financial Institution Certification requirements.
Ability to solicit feedback from our Members and the community at large, and Knowledge of Financial Products and/or Financial Services relevant to the needs of the Target Market.

Meetings:

Four (4) per year, once every 3 months
May be invited to attend Annual Strategic Planning Meeting (3-4 Days, Travel may be required)
Focus Groups and Community Meetings
Annual Meeting
Public Service Events